Welcome To Chemistry Department
---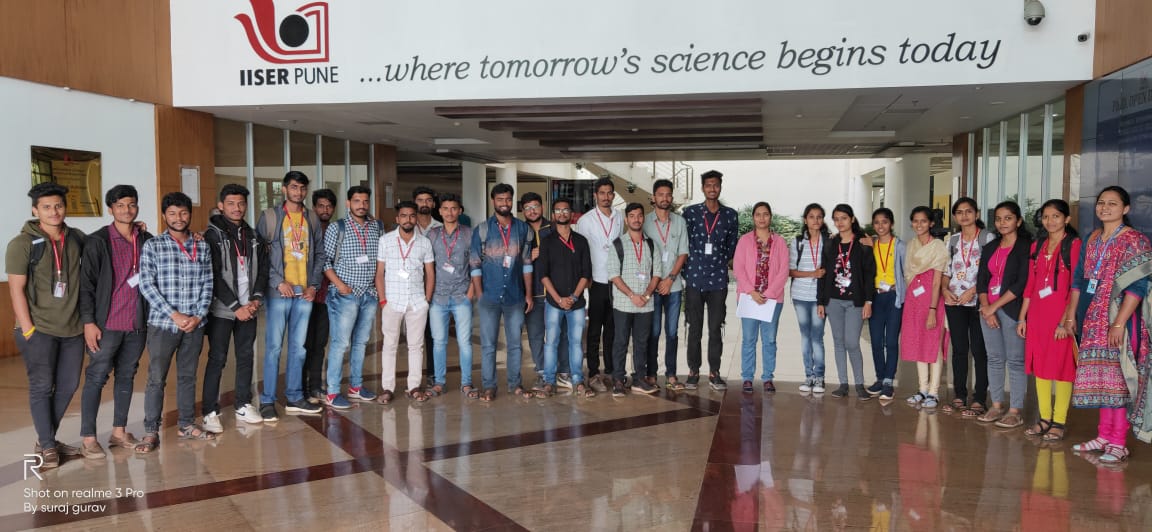 'Study Tour at IISER'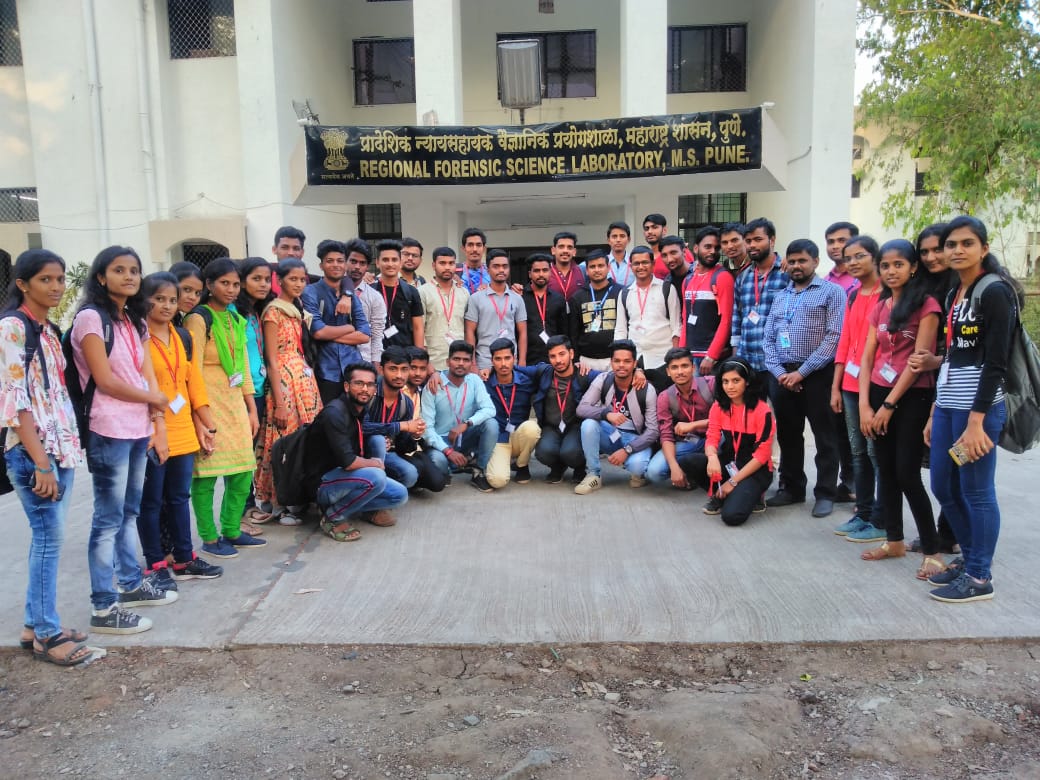 'Study Tour at Regional Forensic Science Laboratory ,MS'
History of Department
Chemistry Department is one of the leading department of the college which is having    UG (B. Sc.) and PG [M. Sc. (Organic), M. Sc. (Analytical)] and Research Centre for Ph. D. course. Department also conducts Diploma in Rubber Chemistry and Processing course under UGC Community College scheme and in collaboration with All India Rubber Industry Association (AIRIA). Department undertakes various activities for the overall development of students as well as cultivating research attitude.
Aim
To provide quality education in Chemistry for generation of intellectual human resources
Objectives
To promote and motivate students for higher studies.
To develop research attitude amongst students.
To develop students with practical skill, to meet the requirement of the industries.
Best Practices
Teaching and Learning : Interactive Lecture Method
Power point presentations: Criteria-IV
Seminars: Criteria- II
Group Discussions: Criteria- II
Use of ICT tools: Criteria- II
Campus Interview
Highlights
Research Centre affiliated with Savitribai Phule Pune University
Department have well equipped Sophisticated Central Instrumentation Analysis facility (SIAFC)
Well Equipped Laboratories for UG and PG Courses
Study tours and industrial visits
Alchemish Alumni  Association ( AAA)  of the Department
Activities
Guest lectures by eminent faculties from various institutes.
Science exhibition
DBT-Star college experiments and projects
Visit to ISSER Pune by M.Sc II Analytical students
Visit to Forensic science lab Pune by B.Sc and Sc Chemistry students
Soil and water analysis was carried out by M.Sc Analytical students from urban region Dongargaon from Mawal district.
Industrial visit to Syngenta India limited Goa by B.Sc Chemistry student and National centre for polar and Ocean research, Goa student by M.Sc Chemistry students.
Short Term Course? Food Adulteration and Identification?
Summer Training
Chemiad Exam by University Chemical Society
Concept Aptitutde Test by Homi Bhabha Science Centre
Student Achivements
I) Summer Training
Summer training for the SY and TY B Sc student was organized at A1 Coating Industry Chakan  and A1 CED Coating Industry, Chimbali, Tal Haveli Pune in the month of May 2018 and June-2018 . In summer training 17 (S.Y. B. Sc.) and  8 (T. Y. B. Sc.) students have taken . A1 CED Coating and A1 coating industry is well known coating industry owned by alumni Mr Parsad Jadhav.
Class : S. Y. B. Sc.:  Date : 21 May 2018- 30 May 2018
| | |
| --- | --- |
| Sr. No. | Name of student |
| 01 | Ravindra  Popat More |
| 02 | Roshan Ramdas Chimate |
| 03 | Shubham Manohar Walkoli |
| 04 | Krishna Rohidas Wabale |
| 05 | Prachi Santosh More |
| 06 | Monika Bhimaji Devkar |
| 07 | Pragati Anil Choudhary |
| 08 | Jyoti Tulajappa Kukamalli |
| 09 | Tushar Dadasaheb Mohite |
| 10 | Rohit Ramesh Chougale |
| 11 | Ramhari Madhukar Farande |
| 12 | Renuka Ramesh Kate |
| 13 | Sameeksha Vijaykumar Vaidya |
| 14 | Swapnil Sanjay Sonawane |
| 15 | Prashant Arjun Bandgar |
| 16 | Baliram Gopal Mane |
| 17 | Akash Nagnath Ghadage |
Class : T Y  B Sc.:  Dates 02 May ? 11 May 2018
| | |
| --- | --- |
| Sr. No. | Name of student |
| 01 | Swati Koke |
| 02 | Vishal Deshmukh |
| 03 | Sayali S Palande |
| 04 | Jayashree M Mhetre |
| 05 | Sonali V Lohar |
| 06 | Shital Dhotre |
| 07 | Kajal Bhujbal |
| 08 | Pradnya Bharane |
II) Study tours
Study tour for T Y B Sc Class have been organized during 18-22 Feb 2019 to Goa. Students visited Syngenta Pharmaceutical Company, Science Park and historical places
Visit to Syngenta Company , Goa
Mr Omkar Govekar, Mr Rajendra Zore and Mr Sachin Mauskar  group (Vidyaprabodhini College of commerce education, computer and Management, Goa) managed tour ( accommodation, food and sightseeing)  and organized Shivjayanti Program on 19th Feb 2019 at Youth Hostel.  We feel Proud and fortunate to celebrate Shivjayanti at Goa.
Dr Latesh Nikam : Expressing  views on the occasion of Shivjaynti
Mr Ashiok Magar : speech on Chhatrapati  Shivaji Maharaj
Celebration of Shivjayanti : Gathering of students
Mr Omkar Govekar on the occasion of Shivjayanti
In study tour 27 students, 3 teaching faculty and 1 non-teaching faculty were participated.
 Faculties Involved :
Dr. Latesh Nikam ( Tour coordinator)
Prof. Shipla  Idhol
Prof. J. Y. Pokharkar
Mr Ashok Magar ( Lab. Staff )
Study tour of M Sc students was organized during 26th Feb to 2nd March to Goa . M Sc students visited National Centre or Polar Oceneographic Resrach NCPOR and Science parkm and other Historical Places . 45 students and 4 faculties participated in the study tour.
Faculties Involved :
Dr. Sangeeta Jagtap ( Tour coordinator)
Dr. Sujata Modave 
Prof.  Santosh Sonawane
Prof . Rushant Nandkhile
Prof. Mahesh Kharat
III) Competitive Exams.
Chemiad Exam have been conducted on behalf of University Chemical Society of Department of Chemistry , SPPU on 17 Feb 2019 . 40 students participated in Chemiad Exam .  Co-ordinator : Dr Maneesha Shewale


ACT Concept Test by Homi habha Centre for Education and Research Mumbai for  FY, SY and TY students have been conducted on 2nd Feb 2019.  of students Participated : 63  Co ordinator : Dr Sangeeta Jagtap

DBT STAR Activity

DBT STAR activity conducted by Chemistry Department for F Y B Sc ,S.Y.B.Sc and T.Y B.Sc students. Under STAR-DBT Students of S. Y. B. Sc. Chemistry , completed project on Physico- chemical parameters of water samples from PCMC AREA?  under the guidance of Dr. B. M. Pardeshi

Mr Ravindra More ( T Y B Sc), Sameeksha Vaidya ( T. Y. B Sc) and Abhijit Bhange ( S Y B Sc) prepared Crystal models using Foam ( Package material )  Guide : Dr Latesh Nikam

Exhibition

B Sc and M Sc  stundents of department Participated in Science exhibition organised on 12/12/2018. Dr. B M Pardeshi , Dr L K Nikam  Dr S V Jagtap  Dr S H Modave guided the students . 20 students participated in science exhibition.

Students Achievements and activities 

Ravindra More (T.Y.) has been elected as University Representative of the College for the year 2018-19. He also attended Avhan Disaster Management State Level Camp at Babasaheb Ambedkar University Aurangabad during 24 May -3 June-2018 ii) Water Shade Management Camp at Waghapur, Purandar during 5 May-11 May 2018 iii) National Integration camp as Team leadr of Maharashtra State at Shivaji University Kolhapur during 15 Nov ? 21 Nov2018 iv) Jadhavar Science Fair State Level Science exhibition at Jadhavar College , Narhe Ambegaon Pune and received 1st prize on 5th Jan 2019.



Tushar Mohite ( TY) has been elected as Yean Representative ( Sakal Foundation ) of the College.
M Sc students Mr Aniket Kachore and Miss Dumbre participated in Quiz competition at Modern College, Ganeshkhind.    
Shubhangi Dherenge ( T Y B Sc ) scored 50 /50 Marks in Physical Chemistry paper (CH_331) at Semester III examination in OCT 2018.
Placement
 Details of campus placement during the year 2018-19)

On campus

Off Campus

Name of Organizations Visited

Number of Students Participated

Number of Students Placed

Name of Organizations Visited

Number of Students Participated

Number of Students Placed

 Syngenta Co. Goa at B G College

29

05

 

 

 

Campus at N Wadia College

08

         0

 

 

 

Campus at N Wadia College

11

0

 

 

 
Result
Results of the academic year 2017-18 are as follows
| | | | | | | | | |
| --- | --- | --- | --- | --- | --- | --- | --- | --- |
| Sr No. | Class | Appeared | Pass | % | D | I | II | III |
| 01 | B Sc | 26 | 16 | 62.0 | 04 | 12 | 00 | 00 |
| 02 | M Sc ( Org) | 17 | 12 | 80.80 | 00 | 08 | 04 | 00 |
| 03 | M Sc (Ana) | 22 | 20 | 90.90 | 00 | 12 | 08 | 00 |
Rankers of the Department
Rank

Name of the Student

% Marks

B Sc

I

Shahapurkar Akshay Girish

83.92

II

Mhetre Jayashree Mahadeo

75.00

III

Deshmukh Vishal Kailash

74.42

M Sc ( Organic )

I

Mali Ajit D.

71.05

II

Deore  Harshala  L.

70.50

III

Gursalkar Vardhman M.

69.23

M Sc ( Analytical)

I

Patil Bhavesh

72.05

II

Ghorphade Tejaswini

69.91

III

"Bansode Shubhangi

66.64
Awards
Perosnal Awards
Every year Dr. Latesh Nikam gives Merit awards to students of FY, SY and TY B Sc Chemistry students. And attendance award to FY and TY students. Memento given to each awardee
Academic  Awards ( First in Chemistry in  APR 2018 Exam)
Vishram Savaleram  Bhor award   :  ( For  First in B. Sc. Chemistry)
Akshay  Girish Shahapurkar       ( 1007/1200)  83.92 %                                    
Kundalik Malhari Nikam award  :  ( For 1st in S. Y. Chemistry )
Sameeksha Vijay Vaidya        ( 258/300 )  85.3 %                                                  
Parvatibai Kundalik Nikam award : ( For 1st in  Y. Chemistry )
 Mr. Aatish Dattatraya Suryawansh   ( 80.6%)                                             
Deshpande Archana Ashok         (80.3  %)                                                     
Faculty Achievements
Honours and recognitions received by teachers

(received awards, recognition, fellowships at State, National, International level from Government, recognised bodies during the year )

Year of award

Name of full time teachers receiving awards from state level, national level, international level

Designation

Name of the award, fellowship, received from Government or recognized bodies

 2018

 Maneesha N. Shewale

Associate Professor

Ph. D.

2018

Swati Kolhe

Assistant Professor

 NET ( National Rank No. )

2018

Swati Kolhe

Assistant Professor

GATE

2018-19

Dr.B.M.Pardeshi

Associate Professor

Vice President , International Lions club  Pune

2018

DR B M Pardeshi

Associtae Profesor

Best Lion Teacher Award by International Lion Club Pune